Collaborative Business Innovator
Cloud Platform is enabled using Collaborative Business Innovator, an interactive domain where users across Cross-functional Teams interact, share ideas, exchange information and improve informed decision making at a fraction of the cost it would take to develop, secure and maintain an IT infrastructure in today's competitive business scenario. It helps to bridge the gaps in information management thereby enhancing productivity. These are vital for any organization to be efficient, competitive and agile – denominators for assured profitability and growth.
Features
3DDashboard – To build interactive dashboards to manage all your work in one place and streamline your process, Where you can multiple of widgets and even members to the dashboards
3DSwym – It is the heart of communication and virtual collaboration on the 3DEXPERIENCE platform
3DPlay – It is a cloud-based file viewer application which supports both CAD & Non-CAD Files
3DDrive – It brings secure cloud storage functionality to everyone using 3DEXPERIENCE and as well as allowing you to share copies or share access to the original with Customers/ Vendors out of the platform.
3DSketch – It allows you to create sketches of your concepts in a 3D environment and post them to your communities
3DStory – It allows you to create engaging presentations that you can share with your team on your communities and also it allows to add 3D models to your presentation
Benefits
Faster response time to customers
Visual Collaboration to avoid mistakes or misunderstanding
Efficiency, Mobility, Informed Decision-making using Dashboards
Agility in New Product Development
Dynamic Tracking of Project Progress
Work from Home option to face unprecedented challenges
Collaborative Industrial Innovator
3DEXPERIENCE sets a paradigm with truly innovative approach to collaboration, control and capability enhancement. Product Life Cycle Management, Revision Management, Workflow Administration, Task Management that are involved in day-to-day activities are digitally transformed with Collaborative Industry Innovator on the 3DEXPERIENCE Platform. This helps augment efficient processes, enable continuous process improvement and establish best-in-class practices as espoused by ISO and other International Standards.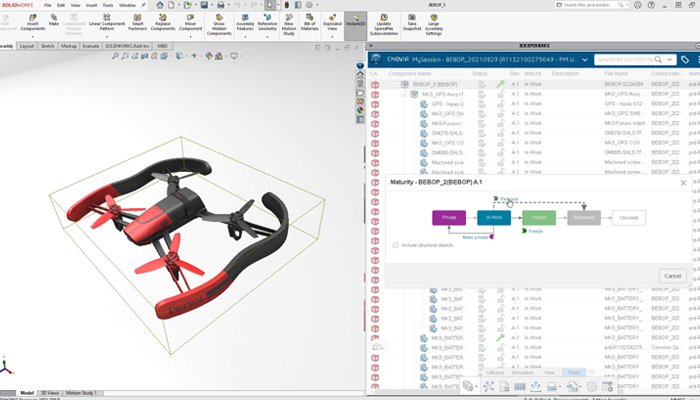 Features:
Comprehensive Data Management
Version and Revision Control
Workflow / Routing Management
Task Management
Issue Management
Change Management
Benefits:
Cloud based Data Management with traceability
Single Version of Truth
Democratisation of Data for Re-Use to Organizational Benefits
Knowledge Capture
Process Tracking and Visibility
Approval and Information dissemination in truly digital mode
Incorporation of Best-in-class Business Processes
Project Planner
Project Planner on 3DEXPERIENCE platform promotes team-based planning for all business users through intuitive and assisted iterative planning, execution and monitoring of projects and its tasks. It connects team members through a flexible and collaborative approach. Team members define, share and complete tasks and deliverables through continuous planning and execution of a project. An innovative engine automatically optimizes the schedule to meet key milestones and delivery dates.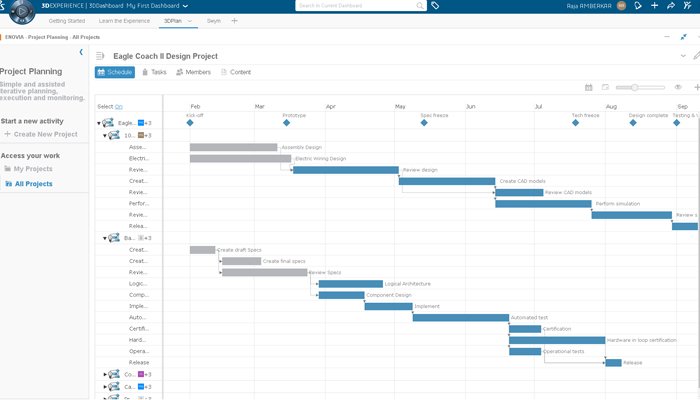 Benefits
Intuitive Gantt chart user interface
Integration between tasks in a project with the data on the cloud
Access and modify tasks' status within SOLIDWORKS interface
Unified dashboard to monitor the project
Product Release Engineer:
Cloud-based solution which provides a shared product definition enabling engineering and other teams to access up-to-date information on product structures.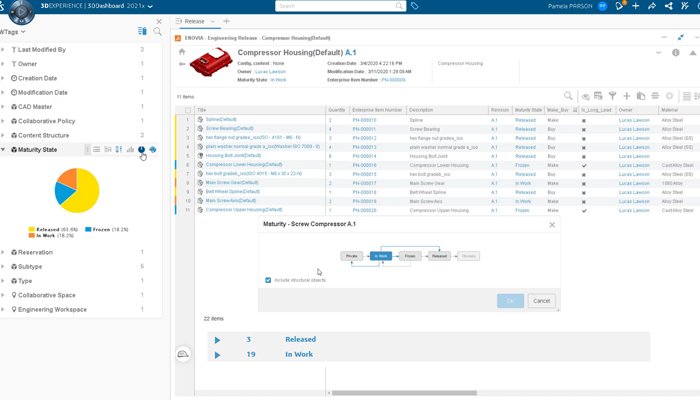 Benefits
Leverage a web-based dashboard to gain quick access to a list of engineering items and manage part numbers.
Advanced re-use strategies to duplicate, reuse and exclude existing engineering definitions to save time and reduce content errors.
Intuitive tools for non-CAD users to perform actions like 3D visualization, annotation, rotation, sectioning and measuring.
Social Business Analyst
Drive Collaboration and Innovation with powerful content analysis and business intelligence tools on the cloud. Track topics, keywords, trends and locations of your interest from information sources worldwide, apply filters to shortlist the topics and get to know about what is happening in your products' market.
Analyse data and use key insights and competitive analysis to understand the market to identify opportunities and risks. Also, find out how customers react to your brand and product.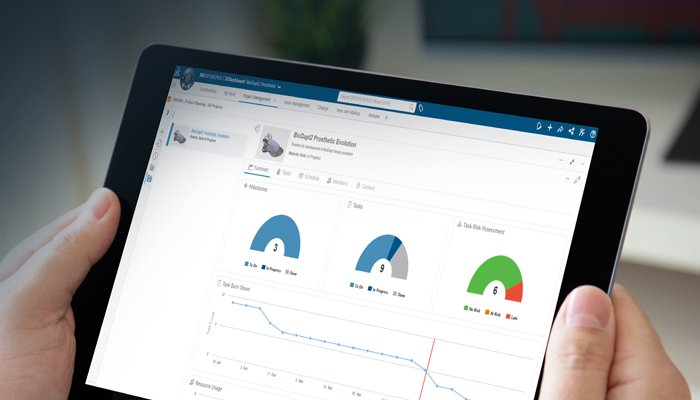 Collaborative designer for CAD tools
Collaborative Designer connects your CAD Tool to the cloud-based 3DEXPERIENCE® platform so you can securely save your CAD design data to the cloud and access it from anywhere with a browser. All 3DEXPERIENCE solutions for design, simulation, manufacturing, and governance can leverage your data once it's on the platform.
Shorter time to market with remote teams collaborating on detail designs securely among design teams working on a common product including SOLIDWORKS, AutoCAD, CATIA V5, Creo Parametric, DraftSight, Inventor, NX, Solid Edge, Altium Designer, Cadence Allegro designs.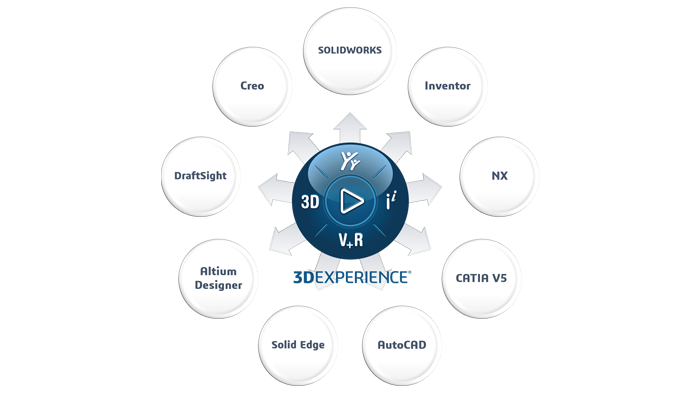 Governance Includes: