Best SOLIDWORKS Training in Chennai
ACADEMIX is a technical training division of EGS India. Started in 1996, ACADEMIX has been training corporate clients and aspiring engineers in Product Design and Simulation. The CAD and CAE courses are taught by Design Professionals with application experience in varied fields of engineering design."Transferring Technology" being the motto of ACADEMIX individuals and corporate are taught the fundamentals as a building block for any design concept. Participating candidates are exposed to state of the art technology in product design and simulation. The following courses are offered at ACADEMIX: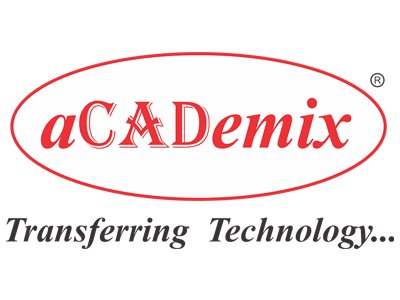 Course Offered:
SOLIDWORKS CAD Basic cum Advanced
Introduction to SOLIDWORKS Simulation Basic – Static /Buckling /Assembly Contact FEA / Report Generation
SOLIDWORKS Vibration Analysis – Frequency Analysis and Dynamic FEA
SOLIDWORKS Non Linear Simulation
SOLIDWORKS Drop Test Analysis
SOLIDWORKS Plastics – Mold Flow Analysis
SOLIDWORKS Flow Simulation- Steady State
SOLIDWORKS Flow Simulation- Electronic Cooling
SOLIDWORKS Flow Simulation- Transient CFD Analysis
SOLIDWORKS CAD Customisation – API Basic and Advanced
Introduction to Abaqus CAE
Abaqus Non Linear
Abaqus – Elastomer Analysis
Abaqus FE Fatigue
Introduction to Geometric Dimensioning and Tolerancing
Assembly Tolerance Stack Analysis
DFMEA
Why ACADEMIX for CAD / CAE Training?
Courses Taught by Design Professionals at Affordable Cost.
No Compromise on Instruction Quality.
Industrial Projects for Understanding practical application.
Limited Students per Batch.
No limitations or hidden costs.
Career Placement Assistance.
Practical Problem Solving using High-End Popular Software.
Trusted name in product design & simulation.