SOLIDWORKS 3D CAD
EGS India – Value Added Reseller (VAR) of SOLIDWORKS in Chennai, Coimbatore, Trichy, India Delivering Design Technology since 1993
EGS India has been the reseller of SOLIDWORKS, India-wide Authorized TOP SALES and Superior Technical Support for SOLIDWORKS CAD Software from SOLIDWORKS Corp., USA. Numerous customers have benefited using SOLIDWORKS for their product design.
SOLIDWORKS is used by customers in India to develop designs while leveraging on Ease-of-Use, New Technologies, Integrated Validation using SOLIDWORKS Simulation and Proven Technical Support from EGS India.
Find out about the SOLIDWORKS Modules
---
Unique Features of SOLIDWORKS:
Integrated FEA Using SOLIDWORKS Simulation for Validation, Optimization and VAVE
Design for Costing to help manufacturing estimate product cost for sheet-metal and machined components
Tolerance Analysis for ensuring Fit and Function inside SOLIDWORKS
Design For Manufacture Validation Tool for arriving at First Time Right designs
Design Automation using Knowledge Management Tool DriveWorksXpress
Marketing & Presentation aids using PhotoView 360
Communication without barriers using e-Drawings – For 3D Designs & 2D drawings – View AutoCAD, SOLIDWORKS & Pro/Engineer Creo without CAD
---
Share data easily with the users of other CAD solutions. SOLIDWORKS provides file translators for exchanging all types of CAD data, including: IGES, STEP, SAT (ACIS), VRML,STL, Parasolid (Siemens Unigraphics) ,Pro/ENGINEER, Creo, Siemens Unigraphics – UG NX, PAR(Siemens Solid Edge), VDA-FS,Autodesk Mechanical Desktop, IPT(AutoDesk Inventor),DWG (AutoCAD), DXF, CGR(Catia graphics),HCG (Highly compressed graphics),Viewpoint, RealityWave, TIFF and JPG.
Special Features of SOLIDWORKS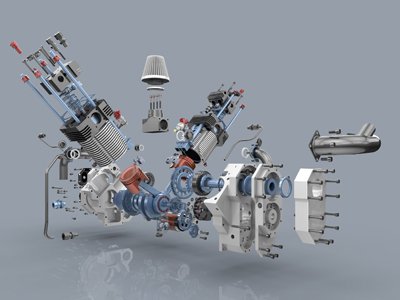 Integrate your DFMEA document with SOLIDWORKS Design Document
Estimate product cost at the design stage using SOLIDWORKS Costing
DimXpert – Automatic Dimensioning & Tolerancing ( GD&T ) per ASME Y14.5 & ISO Standards
Design for Manufacture – DFMXpress for checking Design against Manufacturing requirements (DFM)
Design Automation – Put Knowledge to Re-use with DriveWorksXpress – Rule Based Engineering Design Automation
Share Project Work Worldwide with Web Folders – Secure Data Access
Share All Types of CAD Data with AutoCAD, AutoDesk Inventor and Mechanical Desktop Users.
Safe transition for 2D AutoCAD users – Preserve Legacy data and edit using DraftSight
Perform Kinematic Analysis using SOLIDWORKS Motion Simulation for complex mechanisms
Convert Pro/ENGINEER & Creo Files to SOLIDWORKS – Migrate from Pro Engineer or any 3D CAD
Open Autodesk Inventor, SolidEdge and Unigraphics Parts and Assemblies
Communicate your Product Designs using eDrawings
Perform FEA/ CFD in a truly integrated Design Environment using SOLIDWORKS Simulation – Only FEA Software that is truly CAD Integrated
Customize designs using SOLIDWORKS API functionality
Configure a Family of Products using Microsoft Excel
Increase Design Productivity with Ready-Made Components and Design ClipArt using SOLIDWORKS Library.
---
Technical support from product design engineering team with in-depth experience in handling large design projects, since 1993
SOLIDWORKS Authorized Sales, Support and Training Centre in Chennai, Coimbatore and Trichy, Tamil Nadu, India.
Proven Ability to handle complex design challenges
Imparting innovative design processes and practices to accelerate product development
Faster response to manage mission-critical projects and ensure success.
Award for Top Subscription Services for Customers – 4 years in a row – Reflecting Customer faith in EGS for solving THEIR challenges.
Purchase SOLIDWORKS in India by investing with the right partner – EGS India :
Contact Us
---
SOLIDWORKS 3D CAD Software – Modules & Functions Capability Matrix
DESCRIPTION
SOLIDWORKS Premium
The Premium Package for CAD Professionals
SOLIDWORKS Professional
Maximize your Design Productivity
SOLIDWORKS STANDARD
Get Started in 3D CAD Design
SOLIDWORKS 3D CAD
Part and Assembly Modelling
2D Drawings
Design Reuse and Automation
Interference Check
Collaborate and Share CAD Data
Advanced CAD File Import/Export – 3D Interconnect
First Pass Analysis Tools – Simulation Xpress
Productivity Tools
SOLIDWORKS CAM Standard*
Design for Manufacturing
Xtended Reality (XR) Exporter
SOLIDWORKS Visualize Standard*
CAD Libraries (SOLIDWORKS Toolbox)
Design for Cost & Estimation (SOLIDWORKS Costing)
ECAD/MCAD Collaboration (CircuitWorks™)
CAD Standards Checking
Automated Tolerance Stack-Up Analysis (TolAnalyst)
SOLIDWORKS File Management
Reverse Engineering (ScanTo3D)
eDrawings® Professional
Time – Based Motion Analysis
Linear Static Analysis for Part and Assemblies
Routing of Pipes and Tubes
Routing of Electrical Cabling and Wiring Harnesses
Routing of Rectangular and Other Sections
Advanced Surface Flattening
Assembly Level Cost Roll Up
 * Must be on an Active Subscription
GENERAL FAQs IN SOLIDWORKS
1. I am using 2D CAD. Why Should I go to SOLIDWORKS 3D?
2D CADs are mainly used to create detailing and drafting whereas SOLIDWORKS helps in designing and developing in 3D which helps in better visual understanding. It also helps to create drafting and detailed manufacturing drawings.
2. Can I use a legacy 2D CAD file to create 3D models in SOLIDWORKS?
Yes, SOLIDWORKS allows to import of 2D CAD Files such as DXF and DWG files and 3D Models can be created using the 2D views from DXF/DWG files as a reference inside the SOLIDWORKS environment.
3. Can Legacy 3D CAD files be imported inside SOLIDWORKS?
Yes, SOLIDWORKS Supports the import of Other 3D CAD Files such as Autodesk Inventor, Pro/ENGINEER and Creo Parametric, Solid Edge, Unigraphics. It also supports the import of Neutral Files such as IGES/IGS, STEP, Parasolid, etc.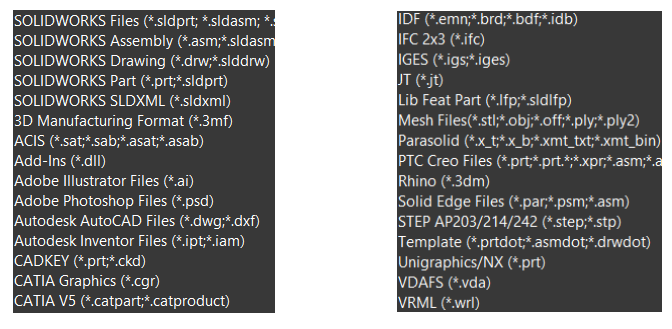 4. Will all the features from the Other 3D CAD Files show in SOLIDWORKS?
The FeatureWorks software in SOLIDWORKS recognizes features on an imported solid body in a SOLIDWORKS part document. Recognized features are the same as features that you create using the SOLIDWORKS software. You can edit the definition of recognized features to change their parameters. For features that are based on sketches, after you recognize the features, you can edit the sketches from the SOLIDWORKS FeatureManager design tree to change the geometry of the features. However, it should be noted that not all features are recognized by Feature Works. Some geometry may not be recognized due to complexity.
5. I want to collaborate with different teams who use other 3D CADs.
Starting from SOLIDWORKS 2017, 3D Interconnect replaces SOLIDWORKS' current translation capabilities with new technology and workflows for working with third-party native CAD data.
You can:
a. Insert proprietary CAD data directly into a SOLIDWORKS assembly without converting it to a SOLIDWORKS file.
b. Open the proprietary 3D CAD format in the SOLIDWORKS software with its associative link to the original part.
c. Update changes in the SOLIDWORKS file if you update the proprietary CAD data in its authoring application by maintaining all downstream features created in SOLIDWORKS.
d. Break the link of the inserted part file with the original part file. With the technology, you can work with other 3D CAD in the same native format without the need for translation to SOLIDWORKS Files.
6. Is it possible to apply the material to models in SOLIDWORKS?
SOLIDWORKS Comes with an Inbuilt material library that includes Steel, Iron, Aluminium, Copper, Titanium, Zinc, Plastics, non – Metals such as Air, Water, Rubber, Wood, etc.
All the materials include mechanical properties such as Elastic Modulus, Tensile Strength, Mass Density, Yield Strength, Thermal Conductivity, etc.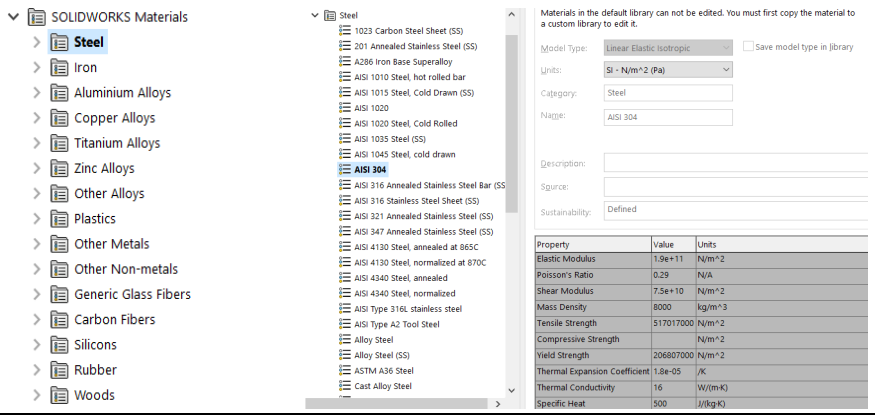 7. Can the SOLIDWORKS Drawings be converted to DXF/DWG Formats?
Yes, SOLIDWORKS Drawings can be exported to DXF/DWG formats to open in 2D CAD software such as Draftsight, AutoCAD, etc.
8. I am not a SOLIDWORKS user but I want to view the models for review. Should I install SOLIDWORKS?
No, It is not necessary to install SOLIDWORKS unless you want to make changes to the models.
For anyone who needs to view and interrogate 3D design data. Whether you are involved in the commercial manufacture, purchasing, a maker, or a student, eDrawings helps you to communicate, share and collaborate with 3D data with an easily shareable lightweight file in its own viewer.
9. I am involved with sheet metal designs, does SOLIDWORKS have tools for sheet metal?
SOLIDWORKS is an easy-to-use intuitive user interface software. Along with part, assembly, and 2D drawing functionality, specialized tools are included sheet metal, weldments, surfacing, molds, product configuration, etc.
10. I am from R&D and will be involved with the analysis of the products. Does SOLIDWORKS have any analysis software?
Yes, SOLIDWORKS has a portfolio of Simulation solutions that are integrated directly inside the SOLIDWORKS 3D Modeling environment. SOLIDWORKS Simulation is an easy-to-use portfolio of structural analysis tools that use Finite Element Analysis (FEA) to predict a product's real-world physical behavior by virtually testing CAD models. The portfolio provides linear, non-linear static, and dynamic analysis capabilities which can be purchased as per requirements and integrated with SOLIDWORKS.