SOLIDWORKS Electrical
SOLIDWORKS Electrical Services provided by EGS India –
Authorised Reseller of SOLIDWORKS in TamilNadu

In the world of the past decades, the Electrical designers, Managers were looking for conclusion to bring electrical CAD design more effective with a streamlined process. The focus is only to generate a comprehensive Electrical design with error free and logical designs.
Since the birth of Mechanical 3D CAD the mechanical department had their 3-D CAD softwares and mechanical BOM reports. In most of the companies, there is no collaboration between these two departments (Mechanical & Electrical), which results in lack of accuracy, infinite errors, improper BOM/BOQ, increase in scrap and delayed delivery.
SOLIDWORKS Electrical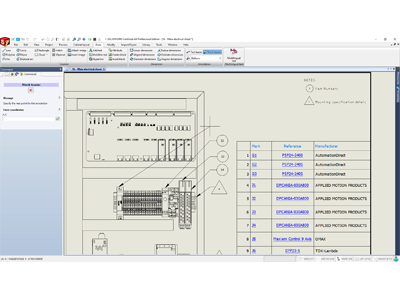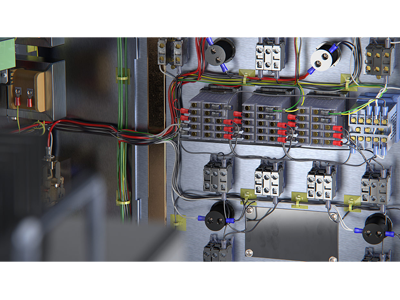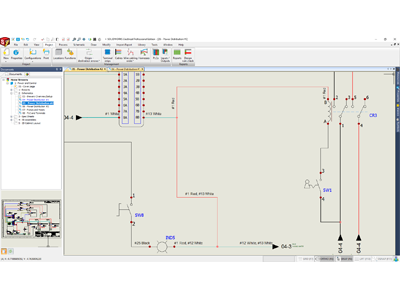 "SOLIDWORKS Electrical" is powerful new generation Collaborative Electro-Mechanical software, which enables electrical designers and automation experts to create automation and intuitive electrical designs which directly integrated with your mechanical CAD models.
SOLIDWORKS Electrical takes advantage in helping the user to create the all the SLD, schematic & control drawing and automates terminal drawing, BOM/BOQ, 3D wire/cable routing & its reports by integrating with your appropriate 3D CAD models.
Unique Features of SOLIDWORKS Electrical:

Intuitive, robust and multiuser interface
Standard (ANSI, IEC, JIS, GB) symbols, templates
Libraries of more than 500,000 manufacturing parts
Error free design with effective DRC (Design Rule Checks)
Automatic generation of Feruling, Terminal and PLC control drawing
Integrate Electrical 2D design with SOLIDWORKS 3D CAD
Automatically generate Wire, Cables and Harness routing
Automatic Report generation BOM/BOQ with customized templates
Reusing of existing design and supports .dwg, .dxf, .xls, .pdf, .doc etc.,
SOLIDWORKS Electrical Products:
SOLIDWORKS Electrical Schematic Professional: An intuitive and integrated electrical schematic design module that help to drive the swift development of embedded electrical designs for panels, equipment and other products. The software also enclosed with builtin electrical symbols and standard manufacturer parts, specifications and footprints to provide common, reusable materials that optimize design reuse. Automated design and management tools helps to streamline the design proces and simplify the tedious designs, from PLC and terminal block to contact cross-reference and BOM documentation.
SOLIDWORKS Electrical 3D: Integrate your electrical schematic design (2D) with the SOLIDWORKS 3D CAD models (parts/assemblies) bidirectionally and in real time. In SOLIDWORKS Electrical 3D provides you 3D vizualisation and enables you to mount electrical parts and models on respected position with mate references. With help of inbuilt advanced SOLIDWORKS routing algorithm it automatically interconnect electrical design elements within the 3D model by determining the shortest path. It fetches design data in 2D environment and select the sketch to define the length for wires, cables, and harnesses. Simultaneously, it also generates and maintain design, document synchronization between electrical and mechanical designs. Need a SOLIDWORKS mechanical CAD license on same version to run the software.
SOLIDWORKS Electrical Professional (2D+3D): Combination of both SOLIDWORKS Electrical Schematic Professional (2D) and SOLIDWORKS Electrical 3D functionalities in one powerful, easy-to-use package. It is ideally suited for the user who work on both electrical and mechanical design integration. Requires SOLIDWORKS mechanical CAD license with same version to run the software.
Why SOLIDWORKS Electrical ?
Intuitive interface
Reduces your overall design cycle time
Increases quality of your design
Error free design with effective DRC
Automatic generation of detailed Wirelist & Documentation
Integrated 2D & 3D with real time bi-directional Associativity.
Automatic & Optimized Routing saves time and Cost.
Automatic Report generation saves time and eradicates manual errors.
Reduce manufacturing cost and increases overall productivity.
Fact is that over 85% of a product cost is finalised in design, it is important that upfront changes in Engineering must take place with care. SOLIDWORKS Electrical enables this and its a proven product for the Electrical Engineering and design process.
Companies nurturing for higher growth and profitability emphasize on 3 Metrics, namely, Cost, Time & Quality. SOLIDWORKS Electrical helps achieve on all 3 fronts resulting in reduction of overall product development time, reducing/ eliminating ECNs, providing knowledge of costs (from BOM). In today's industrial climate of extreme competitiveness, resourcefulness with leveraging on emerging technologies help protect market share and improve profitability. This is exactly the main reason why industries have invested in SOLIDWORKS Electrical.