The 3DEXPERIENCE Platform
3DEXPERIENCE is a cloud-based platform that is easily accessed with a browser and has curated solutions (Roles) for persons from each department in an organization ranging from Design, Simulation, and Manufacturing to Governance/Management.
Collaborative Industry Innovator
Collaborative Industry Innovator is a role in the 3DEXPERIENCE Platform, which enables users to have Product Data Management capabilities on the cloud, with any browser even on a mobile device. CAD, multi-CAD, or non-CAD data can be stored and managed on the cloud by creating product-specific or project-specific collaborative spaces, which act as data repositories.
3DEXPERIENCE enables cross-functional collaboration across departments in an organization, so we can set which person has what kind of access (viewer, contributor, author, or owner) to the files for that collaborative space. The role also comprises several web apps which we can customize on our 3D Dashboards.
Bookmark Editor
Allows you to create a folder structure for your files, to organize and make them easy to find. Lock your files within SOLIDWORKS or a browser, so that anyone who has access, cannot make changes until you unlock the file. Create and manage revisions of your designs or drawings, and their lifecycle state whether it is still in work, awaiting approval, or released for further process.
View your 3D models on any device at any time to review and create 3D mark-ups to aid design changes with which you can hide and show components from assemblies, analyze exploded or section views of models, annotate, and measure just with a browser.
Collaboration for Microsoft
Bring in collaboration and document management capabilities of the 3DEXPERIENCE platform within Microsoft applications like Word or Excel. Access your files anywhere from the cloud and lock them, so anyone who has access cannot make changes until you unlock the file. Now, make changes and manage its revision or version and preview them with a simple browser.
Collaborative Tasks
Task management is now easier with the Kanban board interface, where users can create tasks, add attachments or deliverables, assign users, set priorities and deadlines with comment history for each task. You can track all your tasks in one place, whether it is still pending, in work, or completed, including tasks that were assigned to you by others. On completion of a task, the owner of the task will be notified.
Issue Management
Changes occur throughout the product development process, as a result of an issue or an improvement activity. Create issues or change requests with CAD or non-CAD attachments, set priority, and due date, and assign them to people. Manage them all at one place and filter out if the issue was created by you or it was assigned to you and perform corrective actions on it.
Change Action
Create change actions for issues created in which we can add files that should undergo changes, add attachments like mark-ups and assign them to people. Take control of which person should work on the change action or just get notified or they should approve the change action. Instead of making people approvers, attach route templates created to match your organization's custom approval process.
The files which went through changes are recorded and changes in the product design can be easily compared and visualized with its previous revisions. Also, you can easily identify differences between component geometry structures and properties.
Route Management
Create customized workflows and save them as templates to reuse, with which you can create a series of tasks and assign them to people. With routes, you can carry out approval processes of any data stored on the cloud or change actions, from anywhere even with your mobile device.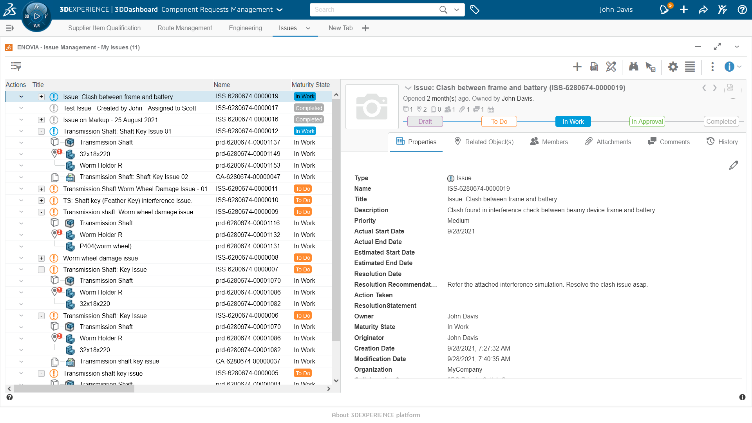 There is no need for design-oriented native CAD applications for reviewing, approving, or explaining the complicated changes in your designs to the team. Thus, Collaborative Industry Innovator enables cross-functional teams to achieve their activities in a unified environment, with a single source of truth (Files). To know more, contact us at info@egs.co.in or +91 94454 24704
Thank you for Reading!